Organizado por la Unión Española de Catadores, se trata de uno de los certámenes vinícolas españoles que gozan de un gran prestigio internacional al estar reconocido por la Organización Internacional de la Viña y el Vino (OIV) y formar parte de VINOFED, la federación que integra, a nivel mundial, los más reputados concursos del sector.
En esta XXII edición del concurso internacional Bacchus 2014, que ha tenido lugar en Madrid del 14 al 18 de Marzo, se han presentado cerca de 1.600 muestras, procedentes de una veintena de países. Durante cinco días fueron examinadas por cien expertos catadores internacionales. Este jurado, compuesto por periodistas especializados, sumilleres, enólogos, Masters of Wine y Masters of Sommelier, ha otorgado una medalla de Plata al vino tinto Selección Reserva 2008 de Bodegas Yuntero.
El pasado mes de febrero otros dos vinos de esta bodega manchega fueron galardonados con sendas medallas de Oro en la prestigiosa competición internacional Berliner Wein Trophy 2014: el ecológico Mundo de Yuntero Blanco 2013 y el Epílogo Blanco 2013, ambos con Denominación de Origen La Mancha.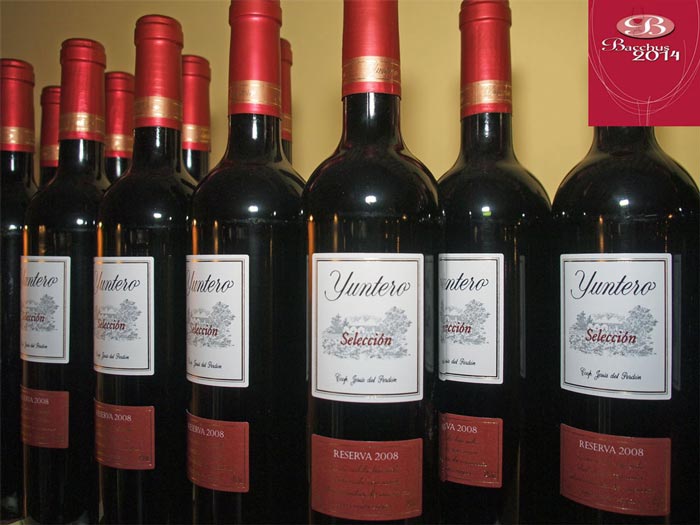 Estos premios, sumados a las numerosas medallas que Bodegas Yuntero consiguió a lo largo de 2013 y a la excelente valoración otorgada -ese mismo año- a tres de sus vinos por el crítico estadounidense Robert Parker, suponen un gran reconocimiento al trabajo constante y a la apuesta permanente por la calidad de la bodega que en 2014 cumple sesenta años desde su fundación.
Yuntero Selección Reserva 2008 (Medalla de Plata Bacchus 2014)
Con Denominación de Origen La Mancha, está elaborado al 100% con la variedad de uva Tempranillo. Cuenta con una larga maceración con fermentación a una temperatura de 24-25° C. Tras este proceso, es envejecido durante doce meses en barricas de roble mixto (fondos de roble francés y duelas de roble americano). Antes de su comercialización, pasa dos años en botella.
De color rojo cereza tirando a teja, resulta de gran complejidad aromática, despuntando las notas especiadas y balsámicas de su crianza en barrica, además de notas torrefactadas de café y moca. En boca, es un vino muy redondo, suave y elegante, con taninos muy dulces, y con gran persistencia.