Third generation farmer, Felipe Rodríguez has the countryside and cooperativism in his blood. He inherited the passion for this hard work from his father and his grandfather. "My father passed on his love for this profession to me. "If he were born again, he would be a farmer again," he points out with conviction.
On his land he grows the Airén, Syrah, Tempranillo, Macabeo and Chardonnay grape varieties. Also some cereals such as barley and wheat. A native of Manzanares (Ciudad Real), he admits that the concerns and goals of his profession are the same as those of any other businessman: "doing my job as best as possible, adjusting the economy, and a factor closely linked to our work, the weather. ".
At 48 years old, he faces a new challenge: being president of the second cooperative with the largest wine production in Spain and all of Europe, the Jesús del Perdón-Bodegas Yuntero Cooperative from Manzanares, which today, March 20, turns 65 years old since it was founded in 1954 by a group of 102 small local winegrowers.
Pure strain cooperative
The cooperative chaired today by Felipe Rodríguez has already reached 850 members, being one of them. Together They add up to a total vineyard area of ​​9,000 hectares and in the last harvest they produced 146 million kilos of grapes. Wines that they distribute to more than twenty countries and for which they have received, throughout their history, more than a hundred awards inside and outside of Spain.
For Rodríguez, being a cooperative member means being linked to a piece of land, twinning with the rest of the members, and committing to a common objective: "I have always been a member of this cooperative, as my father and grandfather from the old El Progreso (merged with Jesus of Forgiveness). He states that all his crops go to the cooperative, where he also supplies everything he needs for his plantations: fertilizers, phytosanitary products, agricultural technical advice... Since in this company there is also a permanent team of more than 60 trained professionals. by agricultural technical engineers, oenologists, research and development personnel, an extensive network of salespeople, operators, marketing and administrative experts. "Everyone does a great job," he emphasizes.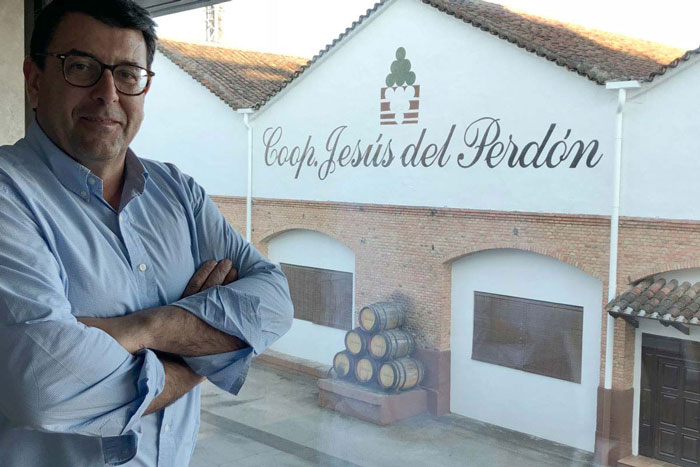 Bottling, wine tourism and new products
The new president of Bodegas Yuntero, who in recent years has served as treasurer of this organization, is clear about the challenges you want to face during his mandate: greater participation in wine forums and cooperative unions; strengthen its relationship with local and regional public institutions and financial services; promote local wine tourism; increase the production of bottled wine; launch new wines on the market; and even bet on the production of nuts (almonds, pistachios), and even olives.
The cooperative has an investment plan for 2019 of 10 million euros to undertake some of these objectives. "Right now we are already building a new 4,500 square meter warehouse that will have a double bottling line, as well as another dedicated to the bag in vox format, which is expected to be launched in May" and adds that "we are also renewing the clay jar warehouse, replacing them with stainless steel tanks."
To attract wine tourism? A new store in the heart of Bodegas Yuntero. "It will have a very careful design and will have personnel specialized in tastings and will assist visitors on their tour of the winery. We are already undertaking the civil works and our plan is to inaugurate it before the next harvest campaign," he answers.
More wine and also almond
Under the Yuntero brand, Felipe Rodríguez announces that it will be launched this year a new white wine of the Chardonnay variety "with barrel passage, on which our winemaker is already working" and which will expand the white menu of the Yuntero brand, which is currently marketed in two varieties Verdejo and Macabeo. For 2020, Bodegas Yuntero also plans launch a Prosecco, white and rosé, light and refreshing sparkling wines that "have great international demand."
The Jesús del Perdón-Bodegas Yuntero Cooperative is known mainly for its winemaking activity, however the lands of its members produce more than just grapes: "in Castilla-La Mancha many farmers are replacing dryland cereals with woody crops. They started strong with pistachio and for some years now almonds have been implemented at a high level," explains Rodríguez.
That is why the cooperative decided this year to launch a pilot test, closing commercial agreements with one of the most important Alicante cooperatives specialized in this product. "The experiment went well and next year our goal is to achieve a production of half a million kilos of shelled almonds. Little by little we want to be a reference in the region for this product," he says hopefully from his office, while admitting that he is looking forward to taking the tractor to go out to work in his field.emb