La bodega-cooperativa manzanareña, sigue en su apuesta permanente en 2 ejes estratégicos: DIMENSION y CALIDAD.
Dimensión, para conseguir aumentar la competitividad en unas sinergias de costes y mayor posicionamiento en los mercados. En los últimos años su actividad se ha duplicado, con una producción en la última cosecha de 2.017, de 105.000.000 de kilos de uva, resultando ser la 2ª Cooperativa de base de mayor tamaño de España, con 850 Socios y 9.000 Has de viñedo propios, con un amplio abanico de variedades de uva, en blancos: Airén, Parellana, Macabeo, Verdejo, Chardonnay, Sauvignon Blanc, Moscatel y Viognier y en tintos: Tempranillo, Cabernet, Merlot, Garnacha, Syrah y Petit Verdot. También resaltar que fue la primera bodega-cooperativa en apostar por el viñedo ecológico en el año 1.992, actualmente con una producción de: 10.000.000 de kilos, de una amplia gama de variedades que representa el 10% de su actividad, correlación de este crecimiento viene refrendada en su facturación en la presente campaña se alcanzarán los 60.000.000 de Euros.
En una apuesta por el aumento de vinos embotellados y el posicionamiento en los mercados internacionales, los vinos están situados en mas de 20 países, de la Unión Europea, América y Asia, contando con un equipo de comerciales con asistencia a las principales ferias y misiones internacionales que nos está permitiendo crecer en tasas del 30%.
Motivado por el crecimiento indicado y la apuesta por la calidad, la bodega está realizando importantes inversiones en su inmovilizado, por un lado para adaptar la Cooperativa a la producción actual y por otro mejorar todos los procesos productivos. Las inversiones realizadas en los últimos 5 años alcanzan los 25 millones de euros de inversión.
Actualmente se está ejecutando un proyecto de inversiones para el periodo 2.018-2019 por importe de: 8 millones de Euros correspondientes a la construcción de nave de 4.000 mts2 para situar las líneas de embotellados y almacenamiento de vinos envasados, esta nave estará dotada para su automatización y climatización para la mejor conservación de los vinos, construcción de 2 naves para cubrir depósitos exteriores con una superficie de: 12.000.000 de litros, reconversión de nave de tinajas para ubicar depósitos de pequeñas/medias capacidades en acero inoxidable, distintas máquinas e instalaciones para mejorar procesos y productividad. En la depuradora un año más se seguirán haciendo inversiones para mejorar todos los vertidos con línea de tratamientos de fangos, cubrición de balsa y adaptación soplantes en reactores.
El otro eje estratégico de la bodega-Cooperativa es la calidad, de poco sirve el crecimiento si no anteponemos la calidad y la innovación, así como la comercialización e internacionalización de la Empresa. Para ello se están realizando diferentes actuaciones:
Control de las materias primas, contando con un Departamento Técnico, que vela por el seguimiento de las parcelas, realizando los cuadernos de campo, seguimiento y recomendaciones de abonados, tratamientos y estado de maduración de las diferentes uvas, para que lleguen a bodega en su momento óptimo, así como el control en la entrada a bodega de la calidad, controlando: graduación, estado sanitario, pH, acidez y potasa, con ello se consigue separar las uvas dependiendo de calidades, así como la remuneración de las mismas dependiendo de la calidad.
Control de las fermentaciones, fomentando la vendimia nocturna para conseguir que la uva entre en bodega con la menor temperatura posible e instalación de más de 10 millones de frigorías para controlar la temperatura de todas las fermentaciones.
Departamento de calidad, se cuenta con un Responsable de calidad, con un laboratorio de reciente construcción con la más alta tecnológica y un grupo de 5 trabajadores, licenciados en Químicas y enología para conseguir un riguroso control en la calidad de todos los vinos y procesos. La bodega está acreditada en las diferentes normativas de calidad: ISO – BRC – IFS e ISO 14.001.
También la bodega apuesta por la innovación y desarrollo, por ello el Departamento de Productos y Servicios agrarios ha presentado un proyecto de I + D al CDTI (Centro para el Desarrollo Tecnológico Industrial) del Ministerio de Industria que recientemente nos ha aprobado denominado: ELABORACION DE VINOS DE CEPAS CON ACTIVIDAD QUITININASA INDUCIDA PARA MITIGAR LAS EMV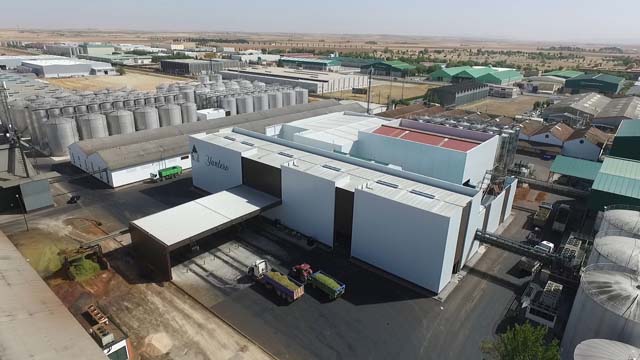 El resultado a la calidad de nuestros productos, está contractada con los numerosos premios que esta bodega recibe en los diferentes certámenes tanto nacionales como internacionales donde se presenta. En la presente campaña los premios obtenidos han sido los siguientes:
| | | | |
| --- | --- | --- | --- |
| GOLD MEDAL | 42 CHALLENGE INTL DU VIN | WINE COMPETITION | EPILOGO BLANCO 17 |
| GOLD MEDAL | 42 CHALLENGE INTL DU VIN | WINE COMPETITION | EPILOGO VIOGNIER 16 |
| BRONZE | The International Wine and Spirit Competition Cellars | | EPILOGO BLANCO 17 |
| BRONZE | 48 INTERNATIONAL WINE CHALLENGE | IWEC | MUNDO TINTO 17 |
| THE PAYMENT | 24 VINALIES | VINOFED (FRANCIA) | EPILOGO BLANCO 17 |
| THE PAYMENT | CERTAMEN ECOVINO 2018 | CULTURA PERMANENTE – LA RIOJA | MUNDO BLANCO 17 |
| BRONZE | BASS DRUM AWARDS | TOMELLOSO | YUNTERO MACABEO 17 |
| BRONZE | BASS DRUM AWARDS | TOMELLOSO | POETICS |
| BRONZE | PREMIOS DECANTER 2018 | TIME INC (REINO UNIDO) | MUNDO BLANCO 17 |
| BRONZE | BUNCH AWARDS | VALLADOLID | EPILOGO BLANCO 17 |
| THE PAYMENT | ECOVINO 2017 | PREMIOS ECOVINO (La Rioja) | MUNDO BLANCO 17 |
| GOLD SELECTION | GREAT SELECTION | COUNCIL OF AGRICULTURE | EPILOGO ROBLE 15 |
| GOLD SELECTION | GREAT SELECTION | COUNCIL OF AGRICULTURE | YUNTERO RESERVA 10 |
| SILVER SELECTION | GREAT SELECTION | COUNCIL OF AGRICULTURE | YUNTERO CRIANZA 13 |
La bodega comercializa una amplia gama de vinos embotellados y marcas adaptadas a cada mercado, Su principal marca YUNTERO – D.O. LA MANCHA que se presenta en sus versiones: Blanco, Rosado, Tinto joven, Crianzas y Reserva, la marca LAZARILLO como VINO DE LA TIERRA DE CASTILLA, la marca MUNDO DE YUNTERO de cultivos ECOLOGICOS, la marca EPILOGO de uvas seleccionadas y coupage de variedades y la última novedad sacada al mercado:
POETICA.- Vino de baja graduación, espumoso gasificado y dulce. Está elaborado con uvas Verdejo y Moscatel y está creado pensando en el consumidor joven que se inicia en el mundo de los vinos; igualmente para aquel que prefiere los productos de baja graduación y su dulzor lo hace también atractivo para los paladares más melosos.
Todos los vinos, se podrán degustar en el stand, que durante las 58 Ediciones mantiene la bodega en el recinto de FERCAM, que se celebrará durante los días del 4 al 8 de Julio.