Bodegas Yuntero ha recibido seis medallas por cinco de sus vinos jóvenes, reservas y crianzas en tres diferentes certámenes internacionales y nacionales: "Berliner Wein Trophy" y "Mundus Vini" (ambos celebrados en Alemania) y los "Premios a la Calidad de Vinos Embotellados y Varietales de la Denominación de Origen (DO) La Mancha", cuyos resultados se han dado a conocer esta misma tarde en la sede del Consejo Regulador en Alcázar de San Juan (Ciudad Real).
Un oro y dos platas en Alemania
En la nueva edición de invierno del concurso alemán Berlin Wine Trophy, celebrado en Berlín entre el 21 y 24 de febrero, se presentaron 7.000 muestras de 1.426 bodegas, procedentes de 41 países. El jurado, que hizo público los resultados el pasado viernes 3 de marzo, otorgó una medalla de oro al vino Yuntero Crianza 2016 de Bodegas Yuntero.
El concurso Berliner Wein Trophy es uno de los certámenes con mayor reconocimiento internacional del sector vinícola por sus estrictas normas –sólo premia el 30% de los vinos presentados–, y por contar con el aval y el patrocinio de la Organización Internacional de la Viña y el Vino (OIV) y de la Unión Internacional de Enólogos (UIOE).
Bodegas Yuntero ha conseguido también el reconocimiento a la calidad de sus vinos en la cata de primavera del Gran Premio Internacional del Vino World of Wine (Germany). Concurso que organiza la editorial alemana Meininger Verlag, especializada en el sector vinícola. Durante seis días (del 20 al 25 de febrero), un jurado –compuesto por 250 expertos catadores internacionales– valoraron 7.220 muestras procedentes de 150 regiones vitícolas de todo el mundo. Entre los premiados, dos vinos de Bodegas Yuntero: el ecológico Mundo de Yuntero Blanco 2018 y el tinto Yuntero Reserva 2013, ambos galardonados con la silver medal.
Los vinos premiados por Mundus Vini serán presentados durante la celebración de la feria PROWEIN (17-19 marzo en Düsseldorf), una de las muestras vinícolas más importantes de las que se celebran en Europa, a la que se espera que este año acudan más de 60.500 profesionales de todo el mundo, y en la que Bodegas Yuntero tendrá presencia en esta ocasión dentro del Pabellón de España, en el stand del Instituto de Promoción Exterior de Castilla-La Mancha (IPEX).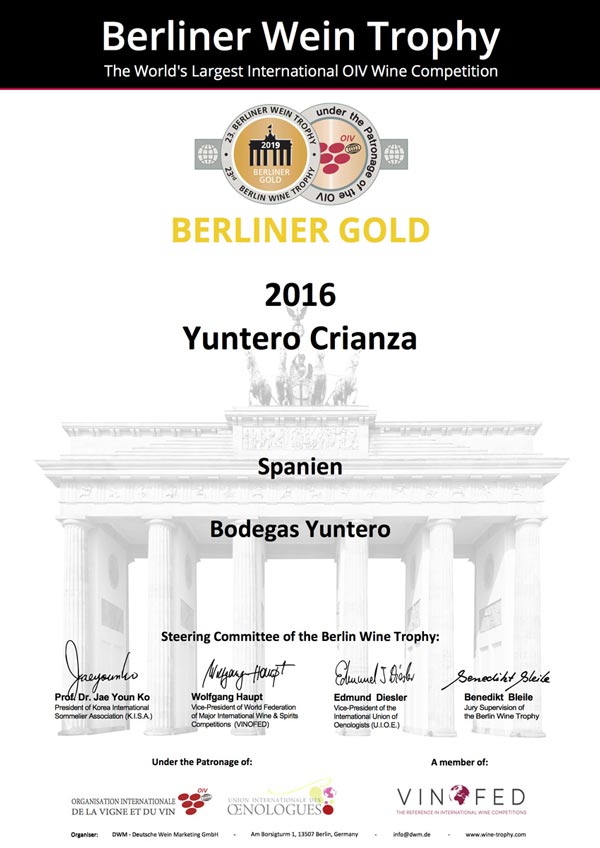 Tres vinos jóvenes de Bodegas Yuntero, premios DO La Mancha
Al oro y dos platas de los certámenes alemanes, se le suman otras dos medallas de plata y una tercera de bronce, concedidas esta tarde en Alcázar de San Juan, en la 32ª edición del Concurso a la Calidad de Vinos Embotellados con Denominación La Mancha (DO La Mancha).
Los premiados por la DO son los blancos Epílogo Sauvignon Blanc 2018 y el ecológico Mundo de Yuntero 2018, con sendos trofeos de plata; y el vino Yuntero Rosado 2018, con el bronce.
Yuntero Crianza 2016, medalla de oro en Berliner Wein trophy
Galardonado con la medalla de oro en el certamen Berliner Wein Trophy 2019, el vino Yuntero Crianza 2016 de Bodegas Yuntero, está elaborado con las variedades de uva Tempranillo (85%) y Petit Verdot (15%).
It has the Denomination of Origin La Mancha, it is cherry red in color with slight slate reflections. It is a wine that has been aged for six months in American oak barrels and another twelve in the bottle before going on the market. The barrel aging gives it toasted aromas and the combination of the Tempranillo grape with the Petit Verdot makes it a more tannic wine on the palate.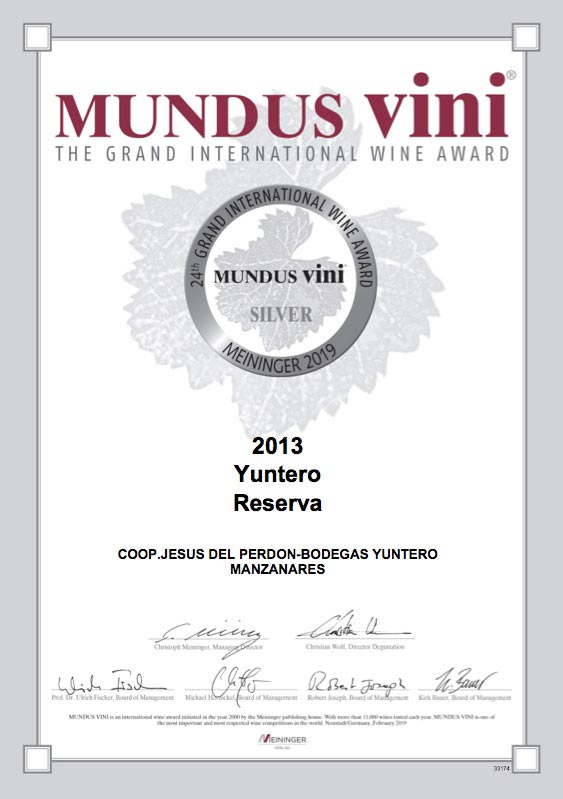 Yuntero Reserva 2013, plata en Mundus Vini
Distinguido con la medalla de plata en el certamen alemán Mundus Vini, es un vino monovarietal –elaborado al 100% con uva de la variedad Cencibel y seleccionada de los viñedos en vaso más antiguos de la bodega–. Es envejecido en barricas de roble mixto, americano y francés durante al menos doce meses. Todo ello le aporta una gran estructura y complejidad aromática con notas a frutas maduras, vainilla y ahumados. De gran persistencia en boca, es un vino redondo, suave y elegante, con taninos muy dulces.
Mundo de Yuntero Blanco 2018, dos platas en Mundus Vini y DO La Mancha
Premiado con la plata en Mundus Vini y los premios a la Calidad de DO La Mancha, el vino blanco ecológico Mundo de Yuntero 2018 es un coupage de las variedades Verdejo y Sauvignon Blanc. De color amarillo pálido y brillante, posee aromas afrutados y florales. Es fresco, alegre y delicado en boca, con un final largo.
Está elaborado exclusivamente con uvas seleccionadas de los viñedos acogidos al reglamento de agricultura ecológica de Bodegas Yuntero, y cuenta con el sello de certificación para veganos que otorga la Unión Europea de Vegetarianos (EVU). La Cooperativa Jesús del Perdón-Bodegas Yuntero lleva 27 años especializándose en la elaboración de vino ecológico, siendo bodega pionera en Castilla-La Mancha en 1992 en producir y comercializar vino procedente de agricultura ecológica.
Epílogo Sauvignon Blanc 2018, trofeo de plata DO LA MANCHA
Este vino blanco de Bodegas Yuntero, plata en los premios a la Calidad DO La Mancha, se elabora con las variedades de uva Sauvignon Blanc y Moscatel de grano menudo. Es un vino brillante, amarillo pálido y de gran intensidad aromática. Los aromas florales y exóticos de la variedad sauvignon blanc (pomelo, mango, maracuyá) están muy bien integrados con los tonos amoscatelados de la variedad moscatel. En boca, resulta un vino muy fresco, con buen volumen. Es de sensación amielada, suave y sedosa. El pequeño punto de carbónico natural que tiene el vino le otorga frescura. El paso en boca es largo y persistente.
Yuntero Rosado 2018, trofeo de bronce DO LA MANCHA
El Consejo Regulador DO La Mancha también ha otorgado un trofeo de bronce al rosado de Bodegas Yuntero. Es un vino joven elaborado al 100% con uva Tempranillo. Posee un atractivo e intenso color rojo frambuesa, en boca destaca por su equilibrio y complejidad, tiene una gran estructura y persistencia, y desprende aromas a fresas y frambuesas.