La Cooperativa Bodegas Yuntero fue pionera en Castilla-La Mancha en producir y comercializar vinos de uva ecológica. Comenzó en 1992 destinando cinco hectáreas de sus terrenos al cultivo de viñedo ecológico. En la actualidad dispone para este tipo de cultivo mil hectáreas, que en la vendimia 2017 han producido diez millones de kilos de uva ecológica.
Mundo de Yuntero es la primera marca de vino ecológico que Bodegas Yuntero lanzó al mercado. Ahora cumple veinticinco años. Por este motivo, la Cooperativa ha renovado su imagen, mediante la incorporación de una nueva etiqueta y una nueva botella. Imagen que estrenarán los vinos Mundo, tinto y blanco, de la nueva añada 2017.
Mundo de Yuntero, nueva imagen
Los nuevos vinos jóvenes ecológicos de la añada 2017 de Bodegas Yuntero, que estarán disponibles en el mercado a partir de la tercera o cuarta semana de diciembre, serán los primeros en lucir esta nueva etiqueta y botella.
La nueva etiqueta del vino Mundo de Yuntero recrea un agradable paisaje campestre, con un árbol como protagonista, rodeado de flores sobre las que sobrevuelan algunas mariposas. El dibujo se ha desarrollado en tinta negra, a excepción de algunos detalles en rojo carmín (versión de vino tinto) y en ocre anaranjado (vino blanco).
La nueva botella del vino Mundo de Yuntero difiere bastante de la anterior, siendo la actual más ancha de fondo y de cuerpo, estrechándose paulatinamente hasta terminar en un estilizado cuello.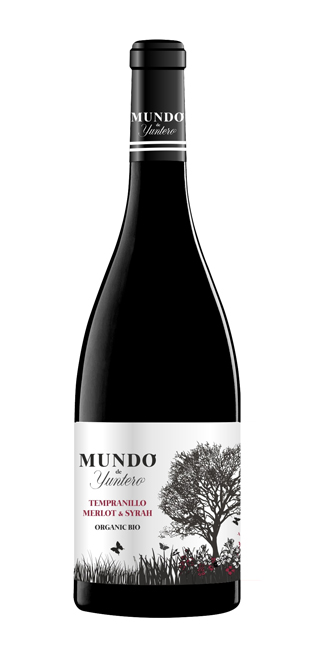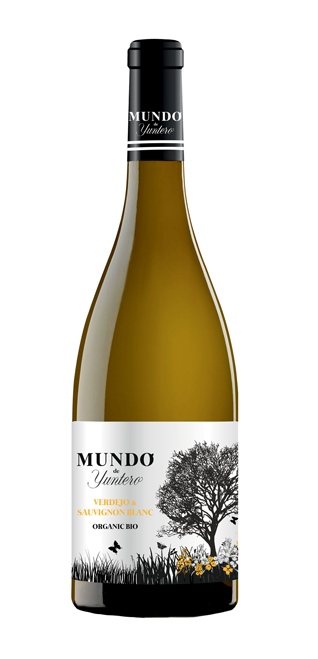 The ecological World of Yuntero
El tinto ecológico Mundo de Yuntero es un vino joven, elaborado con las variedades de uva Tempranillo, Merlot y Syrah. Es de color cereza con tonos púrpura, de aromas con recuerdo a bayas maduras y frutas rojas silvestres. En boca, resulta armónico, estructurado y con carácter.
El joven Mundo de Yuntero Blanco se elabora con las variedades Verdejo y Sauvignon Blanc. De amarillo pálido, brillante, destaca por sus finos aromas afrutados y florales. En boca, resulta fresco, alegre y delicado con un final largo.
La calidad de los vinos Mundo de Yuntero ha sido reconocida y premiada, desde que se lanzaran al mercado hace veinticinco años, en múltiples ocasiones en diversos concursos nacionales e internacionales. Entre los premios más recientes, obtenidos durante la campaña 2016-2017, destacan la medalla de oro del concurso alemán Berliner Wein Trophy 2017; las dos platas del certámen español Ecoracimo 2017; y también la plata del español Catavinum 2017.