Bodegas Yuntero consigue dos medallas de oro y otras dos de plata en la 19ª edición del concurso internacional Berliner Wein Trophy 2015, que ha tenido lugar recientemente en Berlín (Alemania). Los vinos galardonados con medallas de oro son los blancos Epílogo y Yuntero Macabeo, ambos de la añada 2014. Con la plata, han sido premiados los tintos Yuntero Reserva 2008 y Epílogo Roble 2012.
El certamen Berliner Wein Trophy cuenta con el aval y patrocinio de la Organización Internacional de la Viña y el Vino (OIV), organismo que garantiza la realización de los concursos bajo el cumplimiento de las normas internacionales de cata, y de la Unión Internacional de Enólogos (UIOE), agrupación que representa a más de 20.000 profesionales y 12.000 empresas del sector vitivinícola.
Se trata, por tanto, de una de las competiciones con los controles más estrictos del mundo, confiriendo a los vinos y las bodegas galardonadas un sello de calidad y excelencia indiscutible.
Epílogo Blanco 2014, tres veces medalla de Oro
Con el oro obtenido en Alemania, ya son tres las medallas de oro que acapara el vino Epílogo Blanco 2014: en el mencionado Berliner Wein Trophy 2015, y en los certámenes Vinalies Internationales de París y Bacchus 2015 de Madrid, organizados por la Unión de Enólogos de Francia y por la Unión Española de Catadores, respectivamente.
El vino Epílogo blanco 2014, con Denominación de Origen La Mancha, está elaborado con la variedad de uva Sauvignon Blanc (90%) y Moscatel (10%). Es de gran intensidad aromática, encontrándose muy bien integrados los aromas florales y exóticos de la variedad sauvignon blanc (pomelo, mango, maracuyá) con los tonos amoscatelados de la variedad moscatel. En boca resulta un vino muy fresco y con buen volumen. El conjunto de las dos variedades de uva le aportan una sensación amielada, suave y sedosa.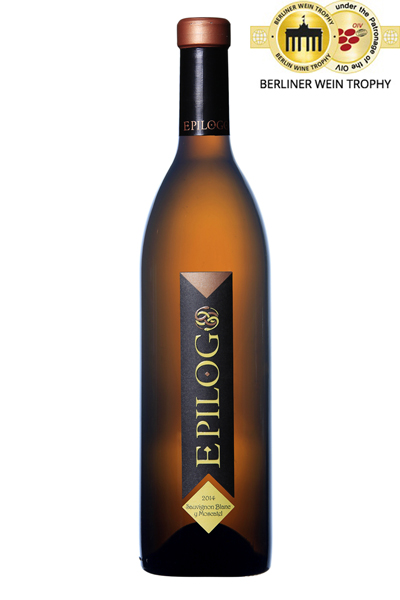 Yuntero Macabeo 2014, medalla de oro en Berlín
El vino blanco Yuntero Macabeo, de la añada 2014, ha conseguido su primera medalla de oro en el Berliner Wein Trophy 2015. Con Denominación de Origen La Mancha, está elaborado con las variedades de uva Macabeo (85%) y Sauvignon Blanc (15%). Es de color amarillo pálido, con tonos verdosos, y tiene sus aromas son mezcla de florales y frutales. La variedad de uva Sauvignon Blanc le aporta en aroma un perfil meloso. En boca resulta intenso, franco, alegre, con gran armonía entre sus componentes y de larga persistencia.
Selección Reserva 2008, tres medallas
El tinto Selección Reserva 2008 de Bodegas Yuntero cuenta ya con tres medallas: la citada plata del Berliner Wein Trophy 2015; el Oro otorgado en la 21ª edición del Concours Mondial de Bruxelles 2014, que tuvo lugar el año pasado en Bélgica; y la plata recibida en la edición 2014 de los premios españoles Bacchus.
Con Denominación de Origen La Mancha, está elaborado al 100% con la variedad de uva Tempranillo. Cuenta con una larga maceración con fermentación a una temperatura de 24-25° C. Tras este proceso, es envejecido durante doce meses en barricas de roble mixto (fondos de roble francés y duelas de roble americano). Antes de su comercialización, pasa dos años en botella.
Cherry red in color, with a brick-like color, it has great aromatic complexity, highlighting the spicy and balsamic notes of its aging in barrels, as well as roasted notes of coffee and mocha. In the mouth, it is a very round, smooth and elegant wine, with very sweet tannins, and great persistence.
Epílogo Roble 2012, repite plata en Berlín
Esta es la segunda vez que el vino Epílogo Roble ha recibido una medalla de plata en el concurso Berliner Wein Trophy. En 2013 obtuvo el galardón plateado el Epílogo Roble de la añada 2011, y en la recién celebrada edición repite medalla, ésta vez con la añada 2012.
Con Denominación de Origen La Mancha, se elabora con las variedades de uva Tempranillo (65%) y Merlot (35%), cuyos caldos se elaboran de forma independiente, sometiéndose por separado a una ligera crianza en barricas de roble mixto (americano y francés). Pasados cinco meses, se realiza el coupage definitivo.
Es de color intenso, rojo picota amoratado con ribete granate. En nariz, se entremezclan los aromas de frutos rojos del bosque, violetas y compota de fruta (grosella, mora, cereza), además del los aromas propios que aporta la crianza en barrica como notas a coco, vainilla, torrefactos y ahumados. Resulta muy sabroso en boca, persistente y de final prolongado.