Bodegas Yuntero estrena una nueva instalación, para la exposición de su amplia gama de vinos embotellados, en la novena edición de la Feria Nacional del Vino (FENAVIN 2017). El nuevo estand de Bodegas Yuntero, de 48 metros cuadrados, cuenta con un renovado y creativo diseño, con espacios abiertos y amplias zonas de degustación, además de reservados destinados a las reuniones con los clientes.
La Cooperativa Jesús del Perdón-Bodegas Yuntero ha permanecido fiel a todas las ediciones de FENAVIN, muestra a la que lleva acudiendo desde su inauguración en 2001. Ramón Alcarazo, gerente de Bodegas Yuntero, explica este apoyo continuado: "era lógico que Castilla-La Mancha, la región con el mayor viñedo del mundo, contase con una gran feria donde dar a conocer los excelentes vinos que producimos. Y de ahí, que las grandes bodegas de la región hayamos apostado por FENAVIN, al igual que los clientes provenientes de todo el mundo, que incrementan año tras año, al entender que es aquí donde se produce la mejor relación calidad/precio de los vinos".
Se espera que en esta nueva edición de la feria, que se celebra del 9 al 11 de mayo en Ciudad Real, acudan 17.000 compradores procedentes de hasta 84 países. FENAVIN albergará a 1.802 expositores, casi un 33% más que en la edición anterior, distribuidos en 8 pabellones con una extensión total de 31.271 metros cuadrados. Datos que confirman la consolidación de FENAVIN como la primera y más importante feria monográfica del vino en España.
Bodegas Yuntero, calidad e internacionalización
Hasta 300.000 contactos comerciales estima la organización de FENAVIN que tendrán lugar durante los tres días que dura la muestra. La calidad del producto, el volumen de producción, el control riguroso en los procesos de elaboración del vino, y una amplia red de clientes gestada a lo largo de los últimos treinta años son las claves que el gerente de Bodegas Yuntero, Ramón Alcarazo, esgrime para destacar entre tanta y tan alta competencia.
"En un mercado cada vez mas globalizado, con márgenes estrechos, debemos conseguir un volumen de producción adecuado para obtener los mejores resultados", argumenta Alcarazo. En este sentido, durante los últimos quince años, Bodegas Yuntero ha incrementado su volumen de producción de forma espectacular, alcanzando en la última campaña (2016) los 111 millones de kilos de uva. "Siendo el volumen importante, we put quality first in all processes. Desde la materia prima, con rigurosos controles sobre el campo que nos permiten conseguir el óptimo grado de maduración de las distintas variedades, a la inversión permanente en máquinas e instalaciones para alcanzar un control esmerado de las fermentaciones de los vinos", añade el gerente de Bodegas Yuntero.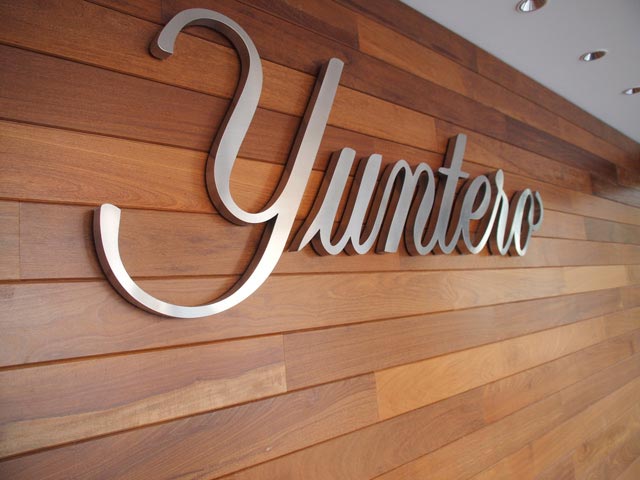 Eje principal de la estrategia comercial de Bodegas Yuntero es la internacionalización: "llevamos más de treinta años comercializando nuestro vinos en el extranjero. Actualmente, exportamos el 86% de nuestra producción a veinte países de todo el mundo", señala Ramón Alcarazo; y agrega que "el gran reto del sector vitivinícola está en el aumento del consumo nacional. Debemos conseguir que las nuevas generaciones entiendan que el vino es un alimento, que su consumo moderado forma parte de nuestra cultura y de la dieta mediterránea".
Wide variety of Bodegas Yuntero wines
Durante FENAVIN, la Cooperativa Jesús del Perdón-Bodegas Yuntero presentará su amplia variedad de vinos: los de la marca Epílogo and Yuntero que cuentan con Denominación de Origen La Mancha; los Lazarillo (Vinos de la Tierra de Castilla); y los vinos ecológicos, Mundo de Yuntero. Cabe recordar que Bodegas Yuntero fue pionera en 1992, en Castilla-La Mancha, en la producción y comercialización de vinos procedentes de agricultura ecológica.
Dos de los vinos que también se podrán catar en FENAVIN, y que Bodegas Yuntero lanzó en 2016, son el blanco Epílogo elaborado con la variedad Viognier, una uva de origen francés muy escasa en el mercado; y el vino gasificado de baja graduación (7%) Poética, un coupage de Verdejo (90%) y Moscatel (10%).
La calidad de los vinos de Bodegas Yuntero está avalada por los distintos premios conseguidos en certámenes nacionales e internacionales. En esta última campaña destacan: las dos medallas de oro del Berlin Wine Trophy (Alemania) por los vinos Yuntero Crianza 2013 y el ecológico Mundo de Yuntero Blanco 2016; o las tres medallas de plata del vino Epílogo Sauvignon Blanc 2016, obtenidas en los concursos Bacchus, Catavinum y en los Premios a la Calidad de los Vinos Embotellados y Varietales de la DO La Mancha.