Two wines made by Bodegas Yuntero have been awarded gold medals at the international fair Word Bulk Wine Exhibition 2019 (WBWE), whose 11th edition was held on December 2 and 3, in Amsterdam.
The WBWE contest is the only competition in the world dedicated to quality bulk wine. It has a jury made up of more than twenty prestigious professionals from 17 countries on five continents. The Bodegas Yuntero wines awarded gold in this new edition of the WBWE are of the Sauvignon Blanc and Chardonnay variety, both from the 2019 vintage.
WBWE, unique fair in the wine sector
The WBWE has positioned itself as "the fair where the largest volume of wine is moved, concentrating 80% of the world supply of bulk wine exports", according to its organizers. It is the largest forum for meeting and promoting the bulk wine market. Among its main objectives: "guarantee the high quality of these wines, dignify their consumption and reward the efforts of the winemakers."
This 2019 edition has welcomed more than 260 exhibitors from 24 countries representing 450 producers, of which 82 are wineries from Castilla-La Mancha. It is estimated that more than 6,000 professionals of up to 60 nationalities have attended the fair. The Castilian-La Mancha wineries have won 11 gold and 7 silver medals this year. Two of the gold medals correspond to the wines of Bodegas Yuntero.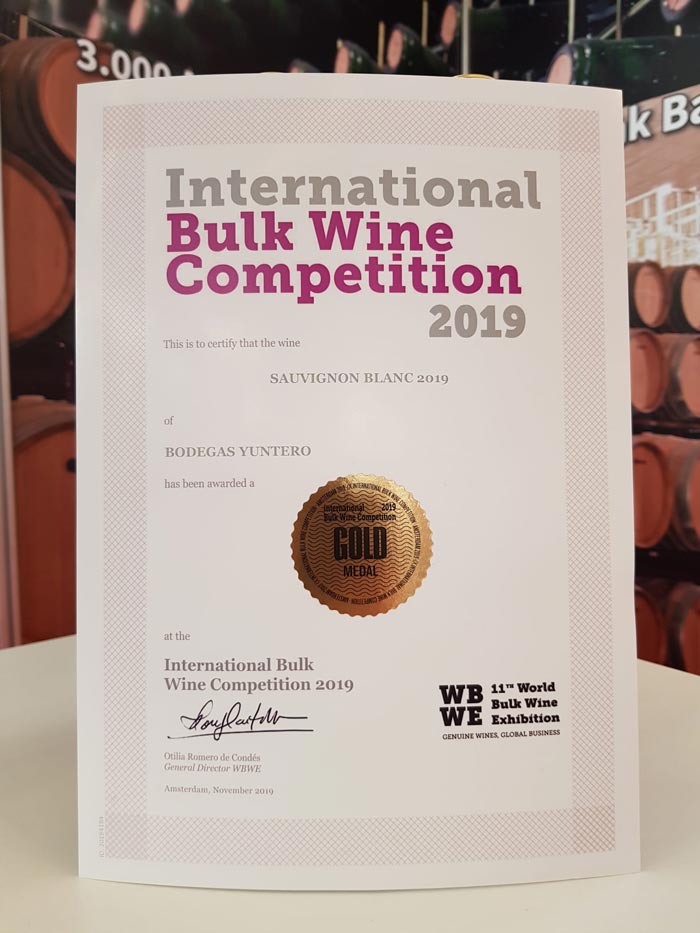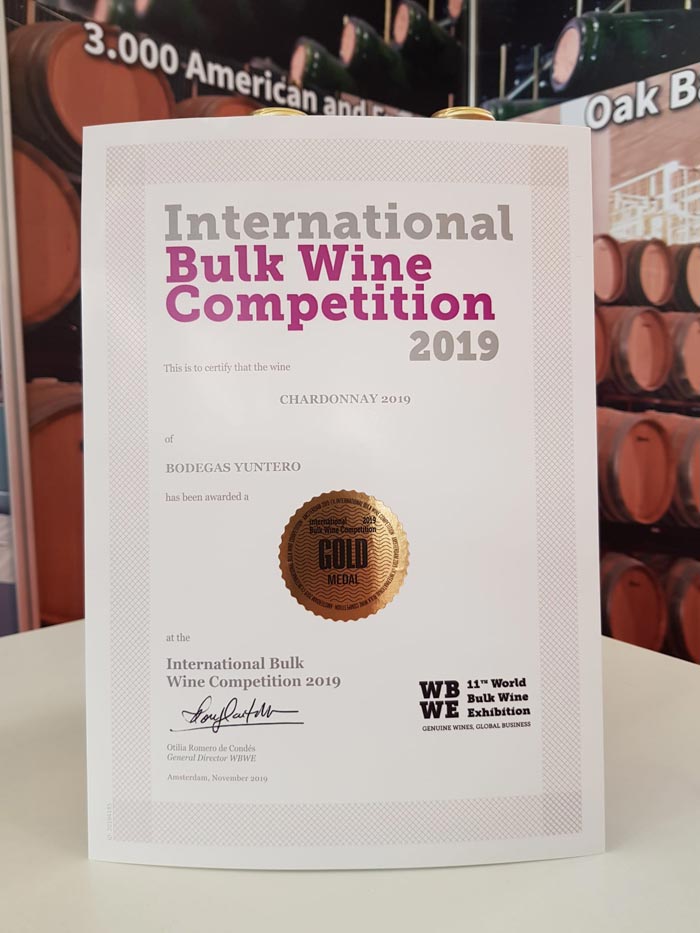 Bodegas Yuntero, quality and specialization in a la carte wines
The Bodegas Yuntero Cooperative is currently made up of more than 850 members, with a total of 8,600 hectares of its own vineyards. Its wines, bottled and in bulk, are exported to twenty countries. In the last 2019 harvest, the cooperative produced a total of 104 million kilos of grapes from a wide range of white and red grape varieties, from conventional and organic vineyards.
With this wide range of varieties, Bodegas Yuntero has specialized in the production of "a la carte wines" (conventional and organic), oriented to the taste of each client and market. The quality of these wines is endorsed by awards such as those received yesterday in Amsterdam, as well as by the high demand of the market, exporting close to 85% of its total production.
Chardonnay and Sauvignon Blanc from Bodegas Yuntero, gold medals
Bodegas Yuntero began working with the Chardonnay variety last year, with the 2018 harvest, with great success and acceptance in the market. It is a wine that is made 100% with this variety, with grapes harvested at night to preserve the fruit in its greatest integrity and freshness. This white wine from Bodegas Yuntero has a short stay in the barrel in order to obtain a perfect balance between fruit and wood.
It is bright yellow, clean and with very attractive golden reflections. On the nose, it is very complex, with tropical aromas of the Chardonnay variety (pineapple, mango) and a floral component, well mixed with toasted and smoky notes provided by the stay in the barrel.
The white Sauvignon Blanc from Bodegas Yuntero is also harvested at night. It is of great aromatic intensity, and in it floral and exotic notes (grapefruit, mango, passion fruit) intermingle. It is a very fresh wine with good volume on the palate, smooth and delicate, as well as persistent.